APPETIZERS SALADS DISHES CHICKEN OYSTERS SIDES PIE
Appetizers

Hand-Cut Fries

Basket of fries tossed with Lucy's secret spice
*Add Chili, Cheese and a big ole jalapeno for $5*

Fried Chicken Gizzards

marinated in Lucy's "Secret Buttermilk Blend" and deep fried, with dill cream sauce

Wings (8)

smoked and fried Lucy's wings served nekked, mild or xxxtraa-hot with bleu cheese or ranch dipping sauce

Cornbread (4)

basket of cornbread muffins with tequila butter

Deep Fried Deviled Eggs

four buttermilk breaded deviled eggs with crunchy chicken skin aioli

FRIED CHICKEN LIVERS

marinated in Lucy's "Secret Buttermilk Blend" and deep fried, with chipotle ranch

FRIED CHICKEN NACHOS

tortilla chips smothered in refried beans, cheddar, cotija, crema, guacamole, and house escabeche

FRIED GREEN TOMATOES

marinated in Lucy's "Secret Buttermilk Blend" and deep fried, with chipotle ranch

Chicks and Chips

chicken salad served with house seasoned salt and vinegar chips

Pearl Beer Battered Onion Rings

cut and battered in house

Bikini Bites

carrots, broccoli, cauliflower, radishes, and a rotation of seasonal vegetables with Lucy's French Onion Dip

Lucy's Fried Pickles

dill pickle spears, fried and served with ranch
Lucy's Caesar Salad

romaine, Caesar dressing, cornbread croutons, and parmesan

Lucy's House Salad

baby greens, seasonal vegetables, with your choice of dressing

South Austin Wedge

crisp iceberg lettuce, blue cheese dressing, pickled onions, and bacon bits

Southern Chef Salad

mixed greens, hard boiled eggs, Texas Gold Cheddar, avocado, bacon bits, cucumber, radish with your choice of dressing

Basket

four piece mixed basket of fried chicken with a pickle and jalapeno

Tender-lovin' Chicken Tenders

boneless tenders, prepared in house with honey mustard or ranch

Pearl Beer Grilled Chicken

brined half chicken with creamy Pearl beer gravy and a side

Fried Chicken Salad Sandwich

served on pumpernickel with house slaw and a side of house salt and vinegar potato chips

Fried Chicken Spaghetti

a lucy's twist on mom's favorite casserole topped with cheddar

Chicken N' Waffles

Belgian style waffles, chicken breast & thigh, honey butter and syrup

Chicken Sandwich

Grilled or fried boneless breast, lettuce, onion, tomato, and mayo

Devil's Cove Club

brined & smoked chicken, bacon, avocado, tomatoes, romaine, mayo on cornmeal Texas toast, served with salt and vinegar kettle chips

Gluten-Free TenderLovin' Chicken Tenders

We created this item for our gluten intolerant guests. Although our gluten-free tenders are made with rice flour they are prepared in the same fryers as our regular flour based fried chicken. We cannot guarantee that our tenders are 100% free of gluten as there is always a possibility of cross contamination.

Dishes

Fish N' Chips

fried cod, Lucy's fries, house tartar sauce and malt vinegar

West Texas Red Chili

ground beef and pork chili served with diced onions, cheddar, jalapenos, and crackers. by the cup or bowl.

Drunken Catfish Sandwich

blackened catfish on texas toast, with house pimento cheese, cucumber, and jalapeno mescal jelly served on a basket of house seasoned salt and vinegar chips

Local Farm Vegetables

grilled kale salad with pickled beets and a selection of seasonal veggies (ask your server for details)

Burn-it Bowl

chopped chicken mixed with mashed potatoes, sweet corn, onions and red bell peppers covered with a poblano chorizo gravy

Chicken Fried Steak

a huge deep fried steak covered with cream Pearl beer gravy and mashed potatoes

Hudson Bend Burger

live fire, ½ pound grilled burger, with lettuce, onion, tomato and mayo, served with fries

Sides

Mexican Coke Sweet Potatoes

Kid's menu

Grilled cheese on Texas Toast
Drinks

Maine Root Handcrafted Beverages

Iced Tea ( Sweet and Unsweet)

PIe

(by the slice)

Pecan

a true southern classic topped with whipped cream

Lime

lime custard with a graham cracker crust

S'mores

chocolate, house marshmallow, graham cracker crust

Elvis

a layer of chocolate topped with peanut butter cheesecake with bananas

Banana Pudding

old-fashioned custard, nilla wafers, bananas
Bar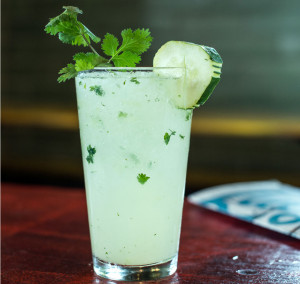 HAPPY HOUR
Mon-Wed All Day
Thurs-Fri 'til 7pm
Daily Specials

MONDAY

$5 house margarita and $2 Lone Star

TUESDAY

$3 Pints and 1/2 priced bottles of wine

WEDNESDAY

$1 Miller High Life Pony and $5 Juicy Lucy

THURSDAY

$3 wells and $3 Cans and Bottles

FRIDAY

$2 off all signature cocktails
Beer & Wine
(Draft)

Texas on Tap

All Texas Beer. All the time. Ask what's what.

(Cans & Bottles)

AUSTIN BEER WORKS

Peace Maker Pale Ale

Fire Eagle IPA

Domestics

Bud Light, Miller Lite, Coors Light, Beck's N/A

(Wine)

Bubbles

Segura Viudas Cava -$7/$28
Cote Mas Cremant Rose $8/$32

Rose

Waterbrook Sangiovese Rose $7/$28
Commanderie de la Bargemone Rose $10/$40

White

Anterra Pinot Grigio $7/$28
Louis Latour Ardeche Chardonnay $8/$32
Laguna Chardonnay $11/$44
Dark Horse Sauv Blanc $7/$28

Red

Alamos Cabernet $8/$32
Edna Valley Pinot Noir $9/$36
Septima Malbec $7/$28
Dark Horse Big Red Blend $9/$36
Cocktails
handmixed craft cocktails

Lucy Basilia

Tito's, honey, lemon juice, basil and blackberries topped with soda

HEE-HAWLAPENO

Dripping Springs Vodka, jalapeno, lime juice and Maine Root Ginger Brew! This mule gotta lil' kick!

Kalgarita

Playa Real Pineapple-Infused tequila, Paula's Texas Orange, fresh lime juice and muddled cucumber and jalapeno

FRONT PORCH TEA

Deep Eddy Sweet Tea vodka, muddled mint,  splash of water, topped with a floater of Paula's Texas Lemon

cherry bomb

Three Olives Cherry vodka, Paula's Texas Lemon, club soda, and our house made lemonade

THE LAKE COOLER

Deep Eddy Lemon Vodka, peach, orange juice, club soda, sparkling wine

WATERMELON CRAWL

Dripping Springs Artisan Gin, St. Germaine, watermelon juice, lemon

JUICY LUCY

Frozen Watermelon Margarita served in a souvenir Lucy's cup

BEE STING

512 Reposado, honey, lemon, and jalapeno

MEXICAN MOJITO

Z Blanco Tequila, mint, club soda, Angostura bitters

WHERE THERE'S SMOKE

Wahaka Espadin Mezcal, Paula's Texas Orange, lime with habanero bitters, and a habanero-sugar rim

TEXAS SUNSET

Rum, brandy, peach, orange juice, lemon

TEXAS WHISKEY REVIVAL

Rebecca Creek Whiskey, St. Germain, lemon, cherry and a candied orange! Testify, brother testify

SOUTHERN BLOODY

Spicy house made bloody mix with horseradish and hot sauce spiked with vodka to help cure what ails ya!

MIMOSA

Sparkling wine with your choice of juice: watermelon, orange, grapefruit. By the glass or carafe.