7th Annual South by South Austin Fried Chicken Revival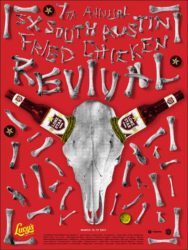 Testify! Five solid days of live music on the patio at our South Congress location. Possibly the tastiest day party of them all.
March 15-19 | 12pm – 6:45pm
2218 College Ave.
Austin TX 78704
(just off South Congress)
Free entry! No pass required! Kids welcome!
As always, we have mouthwatering fried chicken and cold beer ready to serve. The Revival is proud to have Lone Star Beer and TicketFly back as our partners this year!
Wednesday – March 15
Noon: Curtis McMurtry
1 pm: Beaver Nelson
2 pm: Darden Smith
3 pm: The Mastersons
4 pm: Tommy Stinson & Steve Selvidge from BASH & POP
5 pm: T.G. B.A.D.
6 pm: Colin Gilmore
Thursday – March 16
Noon: The Wilds
1 pm: Elsa Cross
2 pm: Charlie & the Regrets
3 pm: Peterson Brothers
4 pm: Ian Moore
5 pm: John Doe
6 pm: Shannon McNally
& Charlie Sexton
Friday – March 17
Noon: Slaid Cleaves
1 pm: Jon Dee & William Harries Graham
2 pm: Walter Salas-Humara
3 pm: Hilary York
4 pm: Otis Gibbs
5 pm: Barfield
6 pm: James McMurtry
Saturday – March 18
Noon: Ducharme-Jones
1 pm: Dustin Welch
2 pm: Michael Fracasso
3 pm: Bukka Allen
4 pm: The Iguanas
5 pm: Ramsay Midwood
6 pm: Shinyribs
Sunday – March 19
Noon: Jon Langford & the Far Forlorn
1 pm: Ice Cold Singles
2 pm: Brandy Zdan
3 pm: Jesse Dayton
4 pm: Jason Eady
5 pm: Kelley Mickwee
6 pm: Ray Wylie Hubbard
Past Revivals